CAUTION :
This contains references to Bahubali : The Beginning and Bahubali : The Conclusion
. The post has been written with the thought that the readers are familiar (if not proficient) with the main characters and story line of the movie(s).
We all must have come across the famous quotation on facebook - "

A man who treats his
girl as a 'Princess' is a proof of having brought up by a 'Queen

' ".
If I were to describe Amarendra Bahubali in one word, he is this man who is being referred to in the quotation.
This sentence has been just a beautiful quotation that has set a standard for boys in general - a standard often spoken of but never observed or met. And apparently, we are all fine with this. Since the standard set is quite high, even I know that it is difficult to find this man.
On 28th April, 2017, I entered the theatre to find the answer to the approximately two year long unsolved mystery - 'Why did Katappa kill Bahubali?' and I found this man - Amarendra Bahubali.
Amarendra Bahubali (referred to as Bahubali in this post, from now on) is a prince of the Mahishmati empire. Having parents both dead, he is raised by the wife of his father's elder brother, much to her husband's dislike.
Now many people find this a reason enough to quit everything, but not Bahubali. He found and absorbed all the love that he got from his mother and didnt let the dislike of his uncle touch him. He was thankful for all he got and never considered himself any better or higher than the rest. He was as happy in his palace, sleeping in his mother's lap as he was outside learning to use weapons and training hard.
From a very early age, he found new relation and the love they contained than resenting in the ones that he had lost or unable to achieve.
Bahubali's only God had been his mother and he listened to everything she said and absorbed it like breathing
in the air. With hard training and his mother's blessings, he grew to be a fine young, educated and trained warrior-prince. He had the perfect trio - the good looks, the intelligence and above all, the golden heart.
When he would play with children in his empire, he would laugh with them; when slaying an enemy, he would be merciless; when learning from his mother or from his teachers, he would be a child; and all this happened to be one man performing everything at a single point in time.
The most beautiful feature of Bahubali's good looks were his eyes - very expressive and powerful. You could see them showering fire when at the battelfield and when he saw his people in danger, they turned to witty and saved them all. I dont think I ever know someone to be so gentle and fierce at the same time and say it all with his eyes.
In the first movie, we dont see much of Bahubali. All we know is -
* he is a learned scholar
* he places his mother above everything, in his heart and in the world
Other than his eyes changing the emotion very easily, his calmness and polite behavior wins all hearts.. When
talking to other scholars, you see a humble and confident man. When addressing his people, he knows when to return love and when to allow them to pamper him.
Bahubali also knew that there are odds against him. People at influential places do not like him. However, you dont really have to find a friend in the walls of a castle. Bahubali has one friend - Katappa, whom he calls mama and can share all his joys and sorrows with. Katappa leaves all his duties and becomes a child with Baahu - that is what he fondly called Bahubali. And that is all Bahubali needed. He had a loving mother, a friend who would fight with all his life for him and the love of the people. He felt blessed and was greatful for it. Never once did he display arrogance, towards animals or towards people.
When Bahubali falls in love, he does not want to impose himself on a girl just because he is a mighty prince and a would be emperor. He disguises as someone 'no one' and gets to find the girl. The girl is not a simple girl but a warrior princess but then, he is also a warrior prince. Yet, the girl must like him for him. Through simple activities, he wins princess's attention. And then one day, he gets to know that maybe the princess has a soft corner for him. There is nothing like that feeling in the world [when your crush likes you back!!].
A time when need arises, he is forced to put away his disguise and fight like a warrior. Even at such a time, he is humble to people around him and encouraging everyone. He made warriors out of a city of simple people who didnt know how to defend themselves. His words were never forgotten. Even when the kingdom was destroyed, the people remained warriors and true to the words that Bahubali had imparted to them.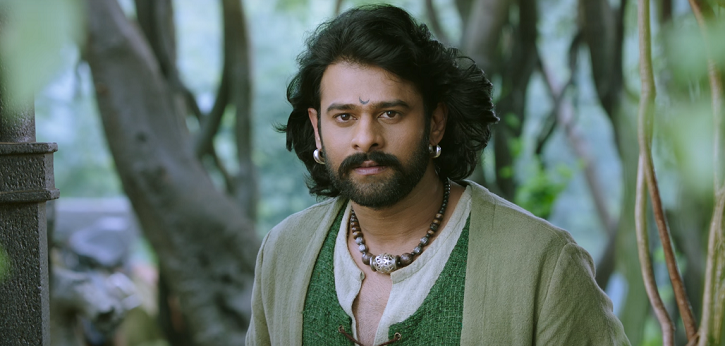 As for the girl, Bahubali turns out to be a better warrior than she had ever seen and here he was defending her people and her kingdom, all by himself. Ofcourse, he gains her respect and love. Yet, when asked, he does not reveal himself but he does allow it to get revealed that he is immensely in love with her.
He promises her that never will her self-esteem or dignity be questioned as long as he is around and Bahubali proves it time and over again.
When the princess wants to walk over to the boat which has drifted a little, he becomes a bridge for her to step on. He loves the princess but does not force himself on her, even when he knows that she feels the same way. And when there arises a question of supporting his mother or the princess, he knows that he needs to be true to his word and also support the girl who was correct in the said circumstance, Bahubali refuses the throne and in turn gains enmity of his whole world - his mother.
Even when it feels the most disheartening, Bahubali excelled as a husband. He married the girl he had promised to take care of and took care of his other duties but a happy heart.
Things get still worse and Bahubali and his wife are exiled from the castle. He lives away from his mother but he takes care of his people and gains their blessings. Castle or outside, he remains a true warrior and emperor.
Even when he was stabbed by his only friend, he understood the circumstances and didnt complain or say hurtful words. He went away just as he had lived, as an emperor. It was the time when his wife was going to give birth to his child. When the sword stabbed him, his thoughts should have been of panic. Yet he remained calmed. He spoke to Katappa like always - like his friend.
He remembered his mother... not because he loved his wife any less but because his mother was still
surrounded by the evil ones and she was now alone. On the other hand, people loved his wife as much as they loved him and also she was a warrior herself. She didnt need a man to protect her and he didnt choose a wife who would. There was nothing he could have done than to 'treat death as an old friend' and 'set on the next great adventure'.
People who despised him, stabbed his dead body as they know that they could have never come close enough had he left a single unit of life in the now dead body.
I know it was very short and most sad, yet, it was grand. Bahubali lived a grand life. He knew home, friend and love. He knew how to win hearts and how to win battles. That is a rare combination!
The thing that really stood out for me was - he protected his wife's dignity no matter where they were or who it put him against. He was fighting for someone but not insulting the other. The society needs men like that. I dont want someone to fight for me, I will do that myself but atleast understand my self respect and dont try to make me lower it.
I went to see a promising movie and I came across a man (the character and NOT the actor) who broke all my walls and inhibitions and made me fall in love with him
And now, here I am, hopeless in love with a dead man, writing a blog to make everyone know how wonderful he is.
Amrendra Bahubali

<3 span="">3>