Okie.. I do know that half of the world which has seen me things I am a South Indian.. the others think I am a Punjabi (by the way I speak) but trust me I am neither.. am a very typical Pahadi girl though I least resemble one (thnks the water of Delhi :D :D) Anyways... yes I am a pahadi girl and today I feel homesick :((
Delhi's been my home since like I was a week old (Am not a Delhi born)... and I have known Delhi alot.. though fine I havent seen all of Delhi but I have a fairly good idea about Delhi.. how people are here.. how they live and everything... but you know this is NOT home...
Sometimes I wish I was never here... wish that my grand-dad hadnt moved to Delhi to search for a job.. but well when I tell him this, he is right in saying that farming wasnt his cup of tea and if he was there, we would be in rags.. the riches I enjoy today is all what Delhi has to provide... I agree the my life without these riches would be tough and hard and at times miserable but I still long for a home...
My dad tells I say this for I know they will never take me to Uttaranchal and let me live there.. but trust me I wanna do this!!
See these ladies here... the dotted thing they wear is what we call 'Pichaud' or 'Pichauda' ... Its a traditional head covering for all married women and its given to them at the time of their marriage.
Seeing that all of them are also wearing the same coloured saree (blue).. means either they are sitting for a traditional pooja (ritual) or they are all fasting for one of their daughter is getting married and all of them will do the Kanyadaan..
See their bangles? The maroon thick glass chudiyaan? My granny wore them all her life.. though today my mum and aunts wear the thin glass and shiny one.. I see the beauty of the thick ones...
and see the lady 2nd from right.. she's put the sindoor from her forehead.. that's how we put it in Uttaranchal.. I had once gone to seen an Uttaranchali play. and there the lady put it right from her nose to her head.. wow!!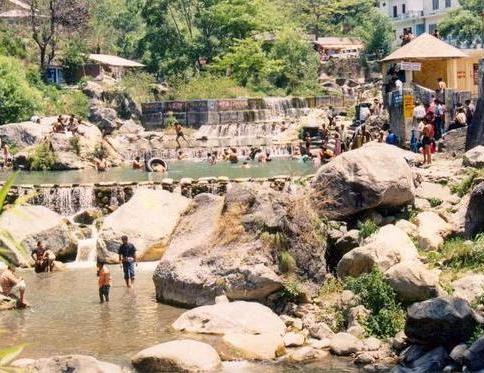 See them?? These are ghats..they are built in paths of river so that we can go and bath there... the water pressure in these is less and its enjoyble...
I love being there!!
Well what all do I mention about my home?? Its just unique and I am totally in love with it...
I just wish that people will stop polluting it.. corrupting it and spoiling it... Let it be untouched.. my home of Gods (thats what Uttaranchal is called - 'DevBhoomi')